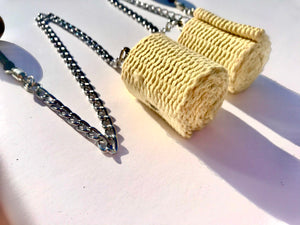 These fire poi are perfect for those who are ready to level up on their poi spinning and add dazzling flames to their spins. 
These wicks made by Threeworlds have been thoughtfully developed though experience and practice. 
These are soft headed wicks meaning that there are no tough metal ends to hit your head! Without metal inners there is also more kevlar to burn and so the flame last longer! These wicks are bound with steel cable to increase safety and durability. 
These poi have been carefully crafted to flow seamlessly, developed to reduce tangles through streamlining the design and using only top quality chains for extra safety. 
The poi also feature silicone grip handles for comfort while spinning and are made with using top quality kevlar. 


Available in three different lengths to suit your poi style and flow. 


Secure checkout is available on our website through Visa, MasterCard and PayPal.  We process orders in 2-5 days and ship using NZ post with an average delivery time of 3days, please understand that rural or overseas delivery may take longer. 


Thank you for supporting our small business!